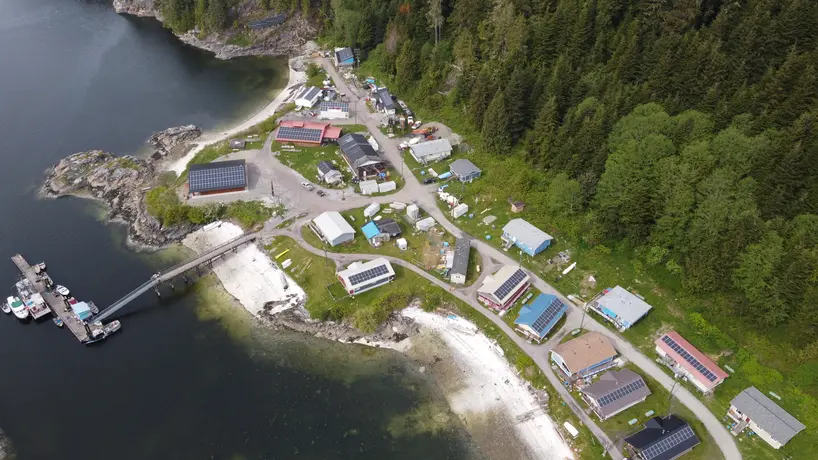 Case Study
Microgrid for a First Nations Community
Kwikwasut'inuxw Haxwa'mis First Nation (KHFN) is a very well structured and progressive First Nations group. Their council is trying to make their communities more sustainable, accessible and attractive to their youth. They secured funding for a renewable energy system to reduce its dependency on diesel energy generation and offset greenhouse gas emissions at their Health Bay village on Gilford Island.
KHFN installed a 250kW/1.1 MWh Battery Energy Storage System (BESS) and a 221kW PV array, consisting of 114kW PV arrays centrally located near the BESS and generators (local PVs), with the remaining 107kW distributed on the homes and buildings throughout the village. ComAp controllers were installed on the three already existing diesel generators, while an InteliSys NTC Hybrid controller was installed in the master control cabinet. Additionally, a ComAp InteliVision 18Touch display was installed to probvide an overview of the entire site.
The system will reduce the community's dependance on their three generators that were providing all the electricity to the site before. The new solar and storage system is predicted to save the village approximately 73,000 liters of diesel consumption each year and is on target to exceed that.
This system is designed to maximise the use of the solar energy, first offsetting the load in the village, with any excess generation used to charge the BESS, thus minimising the use of diesel fuel.
During a typical day, the system starts running off of the BESS, drawing power from the batteries. As the sun begins to rise, less power is needed from the batteries, as the solar is feeding the loads directly. When the sun is fully up, there is enough generation to run all the loads and put any access solar back into the batteries. Then as the sun goes down, the system will resume drawing power from the batteries. If the sun cannot keep the batteries topped up (such as on a cloudy day), then a generator will be automatically started to top the batteries up before the whole process resumes.
By integrating these controls and HMI, the power system achieves a sophisticated and versatile management set-up that maximises the utilisation of renewable energy from solar and the storage capacity of the BESS, while ensuring the reliable back-up support of the diesel generators when needed. The overall result is increased efficiency, reduced fuel consumption, and a more sustainable and resilient power generation solution.