In various places globally different companies may be granted access to wholesale electricity pricing via their electricity market operators. This means that their electricity pricing can be cheaper than the normal retail price, however, it also means that they are subject to large price fluctuations when energy demand increases, such as unexpected summer heatwaves.
Companies that have their own hybrid microgrids can measure the price fluctuation and only use the electricity retailer's power when it's financially convenient, and then when the price goes up they can rely on their own power production. However, monitoring the price fluctuations manually is a demanding task. ComAp's Spot Price Dispatch (SPD) automates and simplifies the whole process.
The tool works on Microsoft Azure servers and receives the information on prices from the market operator. When the price meets the predetermined high price threshold, the SPD sends a signal to the customer´s hybrid controller to start. When the price drops back down, the reverse happens. In addition, SPD also helps organisations to make the best of the low prices, e.g., charge the batery energy storage systems (BESS) when price is low.
This all happens automatically with no human intervention required, ensuring the power stays up without any blackouts or interruptions.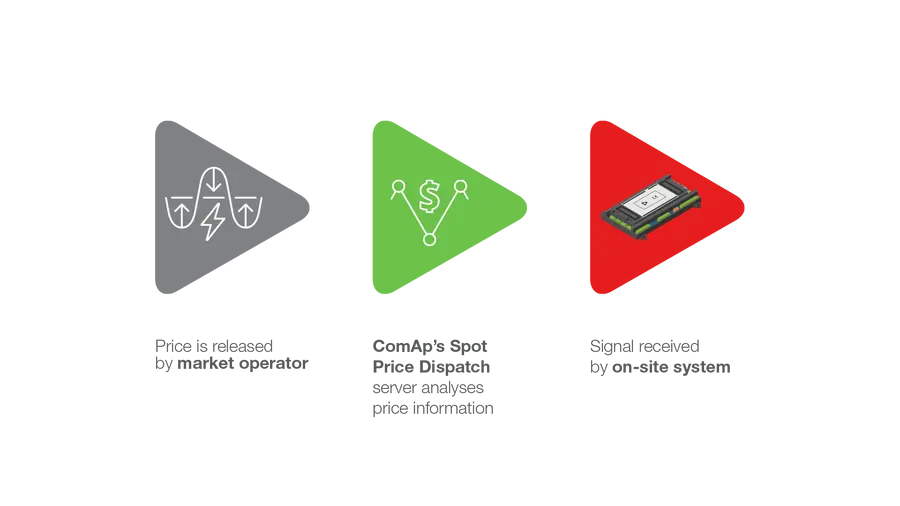 ComAp's Spot Price Dispatch Tool is installed onservers in the Microsoft Azure datacentre. The SPDTool receives the price from market operator. All calculations and comparisons of the priceare set on the server.
If the dispatch price is reached a signal is sent to the on-site controller. The controller uses this information to change on-site processes, e.g., stop and start on-site power, ramp air conditioning or heating, turn on/off lights etc. The SPD tool works with a number of ComAp controllers.
Any InteliGen, InteliSys, InteliLite4 or InteliGateway products can be integrated with this cloud-based tool.