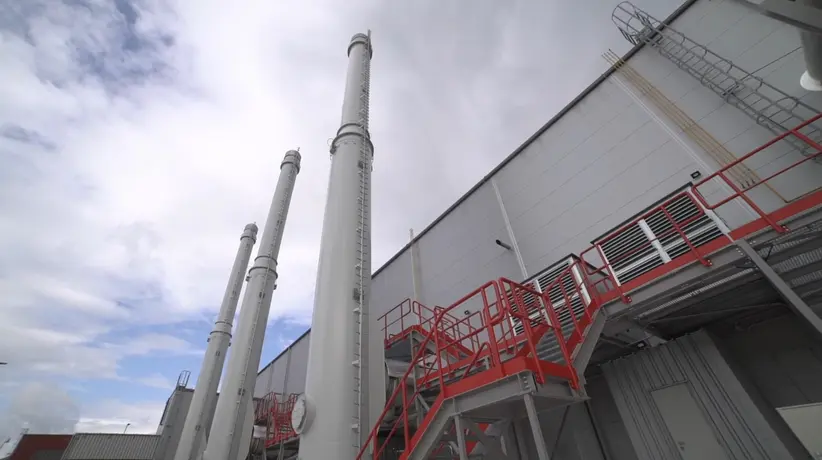 Case Study
CHP Control for a Slovak Heating Plant
Supplying new combined heat and power (CHP) units for a modernized heating plant in Slovakia was the main task for TTS Martin. This company, well established in the field of backup energy sources throughout Central and Northern Europe, has been working with ComAp for many years. In this recent project, coal was replaced as the main source of heat production by wood chip and gas boilers, and combined heat and power units. This plant supplies heating and hot water for the town of Martin and its surrounding area, as well as electricity, which contributes to the stability of the public grid. ComAp supplied 160 control units for this installation, making it one of the largest ComAp projects in Central Europe.

TTS Martin installed three gas engines, from the Norwegian manufacturer Bergen Engines, with a total output of 28 MW to power the CHP units.
"Data from the motors is transmitted to the dispatch center of Středoslovenská distribuční in real time. This is where the commands for power regulation in the grid also come from. Backup power generation for the grid is activated remotely as required. In such a case, the engine must reach 100% output from a standstill within 3 minutes. However, the engine itself needs 2 minutes and 45 seconds to reach full output. The control system must therefore be extremely precise in synchronization," explains Jonáš Kašpar from ComAp Central and Eastern Europe.
Automation has also been utilized in the area of engine fluid replenishment – when requested by the engine, the relevant valves are automatically opened and AdBlue, coolant, or oil is added as required.
The output control is also controlled externally during normal operation, although the engines run at their maximum output most of the time. In such case, the engine consumes 2,200 cubic meters of natural gas every hour. ComAp's controllers process the requested output and adjust the entire system so that the engines respond with the appropriate output adjustment according to the specified control scenarios.
The installation is also monitored by the Ministry of the Environment, which can view each of the three installed emission sensors on each of the engines in real time and can decide to shut down the source remotely due to non-compliance with the emission limits.
The ComAp control system was a clear choice for us. As far as control is concerned, we know this system perfectly. Also, the cooperation with technical support during the lockdown was invaluable to us - all queries were only handled online due to the pandemic. Support was available 24 hours a day, and any problems we had were solved immediately," says Jan Hoferik, Application Engineer at TTS Martin."ComAp was the right partner for us to work with, and we know that we can handle such challenging projects in the future.
Ondrej Korec, CEO, TTS Martin
Products used in this project